Post by on Jan 12, 2006 15:19:24 GMT -5
Ferret Bedding
What Is Safe and What Is Not
Bedding is an important thing to have prepared before your fuzzy comes home but being knowledgeable about what kinds of bedding there is and what is safe for your fuzzy is important to all ferret owners. One large misconception given out by pet stores is that ferrets are small animals that need to have bedding like carefresh or shavings like a hamster. This is very untrue and can be both harmful to your fuzzy and make it harder to litter train them for you. Wood shavings can be harmful to your fuzzy's respiratory system as well as being rather uncomfortable to sleep in. Carefresh type bedding although not particularly harmful can be very messy and also not too comfy. Ferrets like bedding that is soft, snuggly and that they can burrow into. Good low cost bedding items are old t-shirts, baby blankets, sweatshirts and pillow cases. I have heard of some people using towels for bedding but I do not recommend that at all. Towels are hoop stitched and a fuzzy's little nail can easily become caught in the towel which can lead to injury to your fuzzy. Ferrets also love bedding such as hammocks, tubes, hanging cubes, floor cubes, sleepy barrels, sleep sack and other various handmade items. Some of this bedding can be purchased at pet stores but it you ask me it is not worth the money for the quality. The best places to find good bedding are ferret shows, shelters and the INTERNET. You can find a huge variety of different types of colorful bedding at ferret shows. There are almost always vendors from all around selling everything from free standing hammocks to interesting octopus cubes. Some shelters sell bedding to help raise money for the care of the shelter ferrets so by buying your bedding here you can also help other fuzzies. The last and probably the most abundant place to find bedding is the INTERNET. Ebay is a good place to find lots of hand made bedding of really good quality from all over the place. I have bought a lot of bedding off of ebay for my ferrets. You can also search on google for ferret bedding and come up with a handful of sites that sell hand made ferret bedding. There is of course always the option of going to the fabric store and setting out to make your own bedding.
Other than having good quality safe bedding for you ferrets you must also know how to care for your bedding so that it lasts a long time. I switch out and wash all of the bedding once a week. I have at least 3 other sets so that I can rotate use so that it lasts a bit longer. Changing the bedding once a week also keeps the cage cleaner and your house smelling nicer. When I wash my bedding I do so on the hot setting with infant laundry detergent so that it gets really clean. I use infant laundry detergent because it is more gentle and doesn't contain dyes and perfumes which can irritate your ferrets. If possible remove all the metal clips from the bedding before washing to prevent damage to your washer and dryer. I also will wash all new bedding with a bit of parvocide added to the wash to kill off any germs or illnesses the bedding may have come in contact with. Parvocide is used to kill the Aleutians Disease Virus or ADV which is untreatable and fatal to ferrets. Do not use scented fabric softener on your bedding because this can irritate your ferret and cause allergic problems. The only fabric softener I would use is the Downy sensitive which is made without dye or perfumes for people prone to allergy problems.
Below I will show examples of the bedding mentioned above in this article.
Hanging cube
Corner hammocks
Octopus cubes
Tents
Crate beds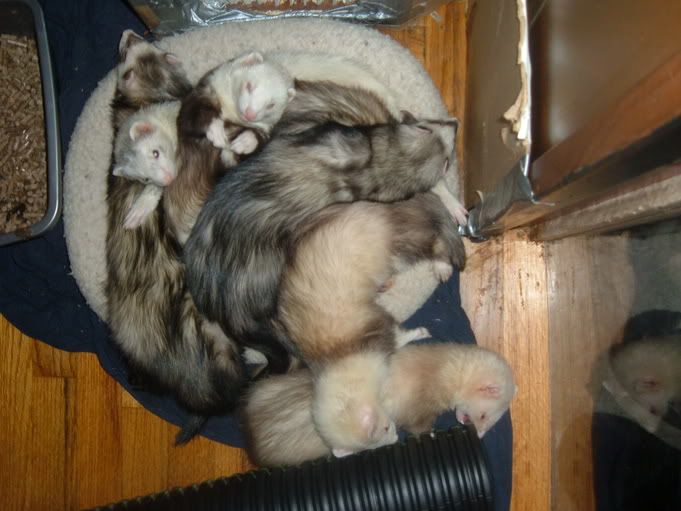 Hammocks
You can see a variety of good bedding in the cage
Written by: Jennifer Morris AKA "The Dook Mom"
Please do not copy this article or repost it without my consent.